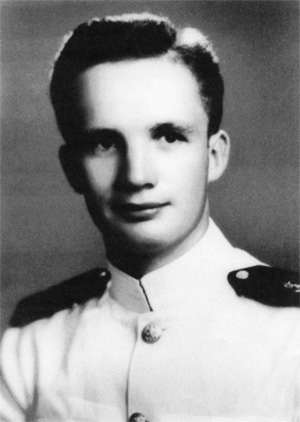 In memory of Ensign Charles E. Butler, U.S. Navy
Lost at sea February 10, 1950
Photo courtesy of Jerry Wilson


Missing Navy Fighter Plane
Found Off Dana Point, CA


Dive Report
by Kendall Raine


The wreckage of a Navy F4U Corsair was located off the coast of Dana Point in 2010 and has recently been identified. Flown by Ensign Charles E. Butler, the Corsair disappeared while flying in formation through cloud cover on February 10, 1950. While the Navy conducted an intensive search at the time, no evidence of the plane or pilot was ever located and its location remained a mystery until last year.

Operating on a request from the family of a missing crewman who was lost aboard a twin-engine military aircraft, Gary Fabian located a promising target on multibeam sonar in the vicinity of the reported accident. Capt. Ray Arntz conducted a side scan sonar evaluation of the target and executed a quick bounce dive to confirm the identity of the wreckage. Ray confirmed the presence of a single radial aircraft engine of a type similar to the plane we were looking for. His side scan image of the site revealed numerous depressions within a 100 foot radius. Apart from the one engine Ray found, the wreckage was extremely fragmented. On December 7, 2010 John Walker and I returned with to the wreck with Capt. Ray and Capt. Kyaa Heller to conduct a scooter based video documentation of the site in hopes of confirming the exact ID of the aircraft. Our plan was to drop on the most concentrated area of the wreck and then conduct a circular scooter search of possible outlying sections of wreckage. Our target plane ditched and we hoped to find sections of the fuselage intact.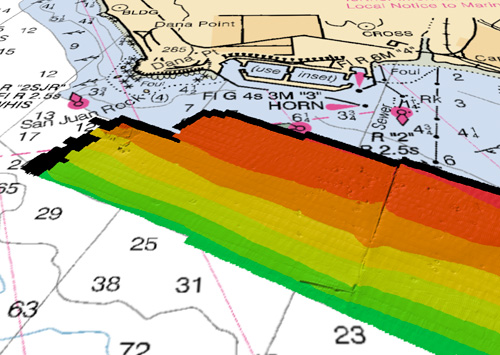 3D perspective view of Dana Point multibeam sonar survey.
Multibeam data provided by SANDAG. Image by Gary Fabian.
Larger Image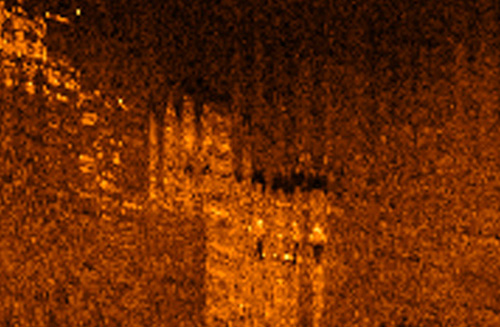 Side scan sonar image of aircraft debris field. Image recorded by Ray Arntz.


As usual, we used a weighted drop line over the wreck site in order to live boat the dive. There was about a knot of current on the surface along with a south swell. By the time John and I got in the water and squared away we were 75 yards down current of the ball and were glad to have the scooters to motor up to the drop point. Visibility was limited and green on top and only opened up below about 50 feet. As we neared the bottom I was distressed to see the drop weight merrily bouncing across the mud bottom. It was maybe 20 minutes since we dropped the ball so I guessed we were between 400 and 600 feet down current of the wreck site. Fortunately, the bottom was soft mud and, with some effort, we were able to make out a snail trail from the drop weight. We cranked up the scooters and followed the trail for about five minutes until we came across a large radial aircraft engine crank case. Most of the cylinder heads were missing but the four bladed prop was unmistakable along with two rows of nine cylinders in a radial case. The engine was consistent with a Wright R-3350, belonging to our target plane. The four bladed prop was correct, as well. Extending from the back of the block was a long crank shaft which had two opposing impellers and a series of reduction gears attached. These appeared to be part of a supercharger which, again, was consistent with our target plane.


All underwater photos by John Walker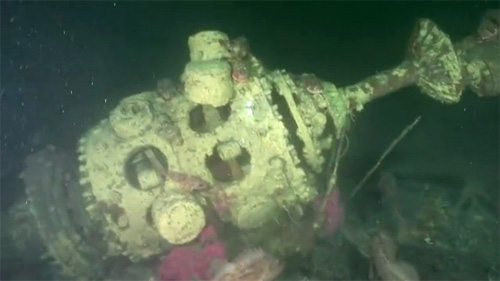 Eighteen cylinder radial engine with two-stage supercharger


We searched the immediate area and came across what looked like a landing gear assembly and a diamond tread aircraft tire. A cylindrical oil cooler lay in the mud alongside pieces of exhaust manifold, cylinder barrels and other engine parts.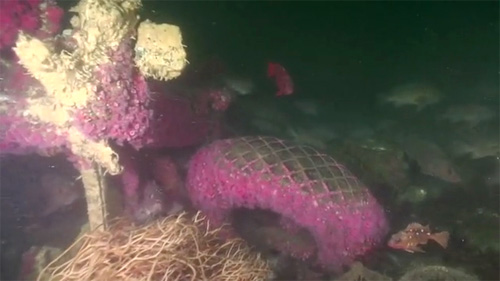 Aircraft tire with diamond tread pattern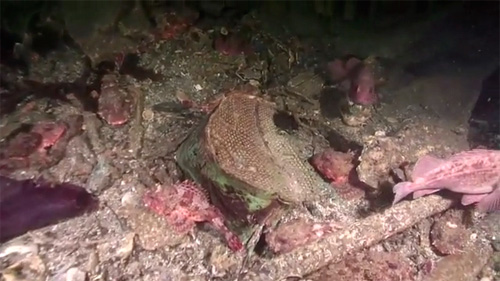 Cylindrical oil cooler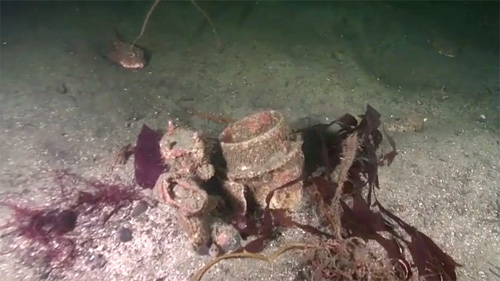 Cylinder barrel and exhaust collector



The amount of debris fragmentation was disturbing since we knew our target plane successfully ditched. The depth was such that wave action shouldn't have broken the plane down so extensively. Nevertheless, we felt increasingly sure we had our plane.

John and I then started a circular search. We tied into the supercharger and scootered off on a bearing to the most distant depression. After scootering 100 feet, we started a circular sweep and came across numerous deep depressions in the mud. We expected to find these occupied by pieces of airplane, but all were empty of aircraft debris. We returned to the main wreckage and looked for additional parts.

John shot extensive close-ups of the engine (the T-33 project had taught us close detail was vital in wreckage ID.) He came across a piece of electrical panel which had function and resistance markings on it. In most debris searches only a few pieces of wreckage are unusual enough to really drive the identification process. It seemed John had found such a "Rosetta Stone."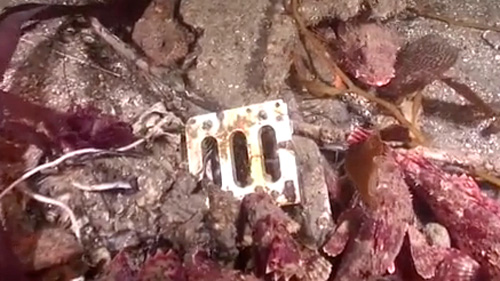 Aircraft electrical panel for exterior lighting circuits


We shot a bag and drifted through our deco. For some reason, I couldn't hear Sundiver II's engines overhead so I assumed Ray had realized the ball was dragging early in the dive and was just drifting along with our bag. Sure enough, he'd been tracking us with sonar throughout the dive and was on top of the bag when it surfaced.

Upon reviewing the video footage, we compiled a list of evidence and believed we had indeed found our missing plane. On the positive side the wreck was roughly where it should be. We felt pretty sure the engine we found was a Wright R-3350 and it also had a four bladed propeller. What was disturbing was we hadn't found the second engine, wheel or any intact fuselage. Our plane ditched and most of the crew survived. For that to happen the fuselage had to have survived the ditching intact and most likely the wing roots, engines and landing gear all should have settled in close proximity on the bottom. Since there was no evidence of nets on the wreck, the chances of a fishing net having pulled away big sections of the wreck seemed unlikely. Furthermore, we could find no evidence that the piece of instrument panel John found belonged to our plane.


Déjà vu all over again


A turn in the investigation came on December 10 when Gary found detailed photos of a Wright R-3350 case along with drawings of another engine which closely matched what we'd found. The drawings clearly indicated what we found was not a Wright R-3350, but a Pratt & Whitney R-2800. This was the T-33 all over again. Having found a plane where we expected it to be, we momentarily fell into the trap of assuming that 2+2 equaled 4. It didn't.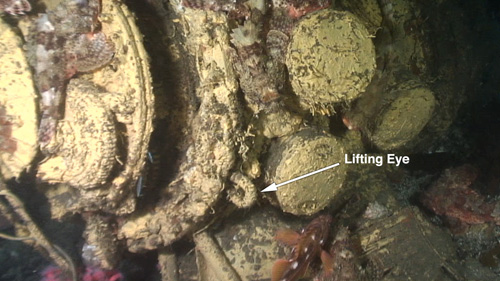 Lifting eye on engine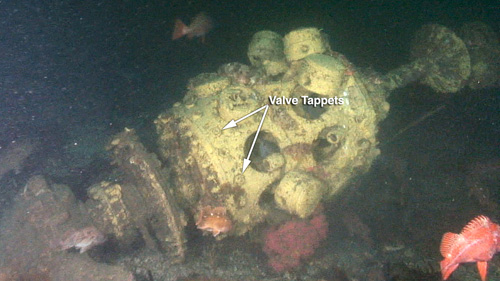 Valve tappets on engine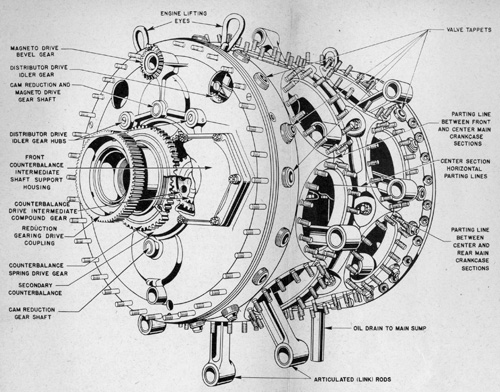 Crankcase drawing of Pratt & Whitney R-2800 engine


R-2800's were never used on our target plane. They were used on various other types including the F4U, F6F, F8F, P-47, DC 6, B-26 and others. Our attention then turned to the supercharger. With two opposing impellers, the supercharger was a conventional two-stage two-speed design consistent with the F4U-4 Corsair and the F6F Hellcat. The Hellcat only had a three bladed propeller; however. Our plane has a Hamilton Standard four bladed propeller.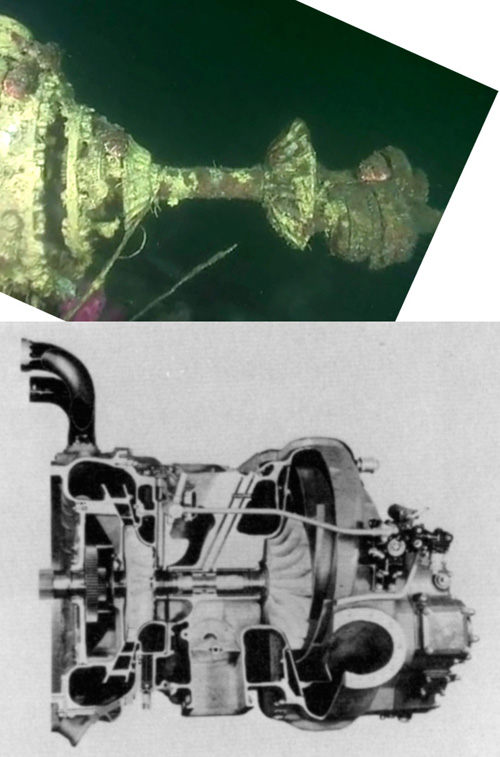 Comparison of engine (top) and a Pratt & Whitney R-2800 supercharger cutaway (bottom)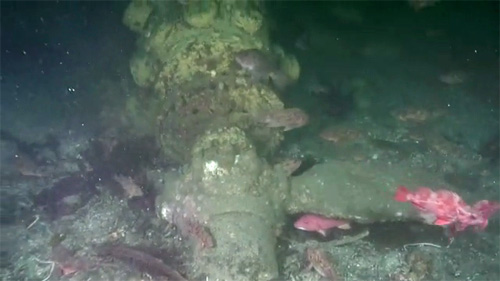 Remains of a Hamilton Standard 4-bladed propeller


The "dash 4" was also the first Corsair to utilize a four bladed prop. Corsair's were flown extensively by Marine Corps and Naval aviators during both WWII and Korea. With a service career of ten years, there were lots of Corsairs buzzing around Southern California. We then turned to aviation expert Pat Macha to see if he had any records of Corsair losses in the immediate area. Pat sent us everything he had, but nothing was directly on point.


The Picture Emerges


Finally, after days of searching Gary found two Los Angeles Times articles from 1950 describing the loss of an F4U Corsair and subsequent search in the Dana Point area. Gary relayed the information back to Pat who contacted Craig Fuller at AAIR who was able to get us the Navy accident report within hours. The aircraft was an F4U-4B piloted by Ensign Charles E. Butler based at NAS North Island, San Diego, CA.



Planes Search Coast for Navy Fighter Pilot

Los Angeles Times
February 12, 1950


An intensive air-sea search for an F4U Navy fighter missing since 2:30 pm Friday was in progress yesterday with 19 planes, Coast Guard cutters and a helicopter combing the rocky coastline near Dana Point. Naval Officials said the plane was on a training flight from the Naval Air Station at North Island, San Diego. The pilot and sole occupant was identified as Ensign Charles Emery Butler, 22, of Baggs, Wyo. Butler was flying in formation with another Navy ship over the coastline Friday afternoon.



Search for Missing Plane Abandoned

Los Angeles Times
February 14, 1950


SAN DIEGO, Feb 14 (AP)- Search was abandoned today for a missing Navy F4U Corsair fighter plane missing since Friday. Navy officers expressed belief the plane, piloted by Ensign C.E. Butler, 22, of Baggs, Wyo., crashed into the sea after disappearing in clouds near Santa Ana from other fighters in a training flight of five.


Now we were getting somewhere. We had a documented missing aircraft that matched the engine, supercharger and propeller configuration of the wreck. The tire and oil cooler are also consistent with an F4U. But we still had a piece of instrument panel which decidedly did not match anything visible inside the cockpit of any F4U variant. The instrument panels in the F4U are black metal with white lettering. The panel observed on the wreck appears to be white plastic with black lettering. The resistance markings on the panel matched the builder's specifications for the Corsair lighting circuits, so we were pretty confident we had a piece of an F4U. Without placing the piece; however, we didn't want to go public with the story. We'd mis-ID'd the plane once and were uncomfortable with a piece that didn't fit.

Finally, the "Rosetta Stone" spoke. On January 3, 2011, Julie Chaminand from ClassicFighters.org relayed a photo from Commander Doug Matthews of a resistor block currently being installed in an F4U restoration. The photo was taken for us by aircraft restoration expert John Lane at Airpower Unlimited in Jerome, ID. It was a perfect match. The resistor block mounts inside the electrical control box of an F4U Corsair. No doubt about it. No wonder we couldn't find it in any photos. At this point we had eliminated the only remaining contradiction.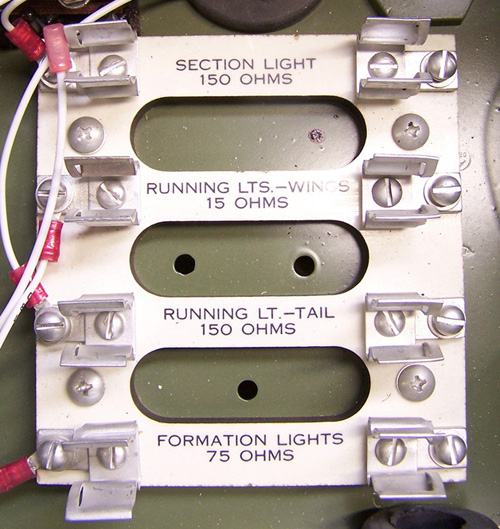 F4U Corsair resistor block. Photo courtesy of John Lane.



All the evidence we had indicated this was the F4U-4B piloted by Ensign Butler. Nothing we had suggested otherwise. From the newspaper clippings we started our search for surviving relatives in Baggs, Wyoming, Ensign Butler's home town. Through the fine work of Dave Mihalik, retired Assistant Police Chief of Irvine, CA, and a member of Pat Macha's aircraftwrecks.com search team, we were able to locate Ensign Butler's childhood friend. Through the help of Baggs resident Linda Fleming, Dave made contact with Jerry Wilson, 82, of Yuma, AZ. Jerry told us Ensign Butler was an only child and had no known living relatives. Shortly after Ensign Butler's disappearance Jerry traveled to North Island, San Diego to inquire about the fate of his friend. He spoke with a Navy chaplain, but was given little information and was refused entrance to the base. With nothing to go on, Jerry went home and commissioned a memorial in Charles' name now located in the cemetery in Baggs, Wyoming. In the waning years of his own life, Jerry was very appreciative to learn the final resting place of his missing friend Charles Butler.



F4U Corsair plane wreck discovery from John Walker on Vimeo.