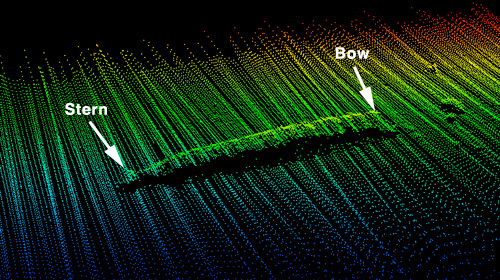 3D point cloud of ex-USS MORAY (SS-300). The image shows MORAY resting on her starboard side on a gradual slope at San Clemente Island, CA. Maximum depth at the stern is 200 ft. Data from 2002 multibeam sonar survey conducted by
USNS JOHN MCDONNELL
. Multibeam sonar data provided by the US Navy. Image rendered by Gary Fabian.
Larger version
Image sequence of USS MORAY's final moments captured from San Clemente Island.
U.S. Navy photographs provided by Steve Lawson.



Dive Report
ex-USS MORAY (SS-300)
San Clemente Island, CA
August 25-26, 2012

by Kendall Raine

GoPro Video and Still Frames by
John Walker and Scott Brooks


Sometimes finding the wreck is the easy part. Getting to dive it is a whole lot tougher. "So near and yet so far" best describes this expedition to explore and document the wreck of the Balao Class Fleet Type submarine USS MORAY (SS-300) at San Clemente Island, CA.

Launched in 1944, MORAY served briefly in the Pacific until the end of WWII earning herself one battle star. She was decommissioned on 12 April 1946 and laid up at Mare Island Navy Yard, Vallejo, CA. A board of inspection and survey found her unfit for further naval service and she was struck from the Naval Register on 1 April 1967. MORAY was later turned over to the Naval Undersea Warfare Center for weapon evaluations. On 18 June 1970 MORAY was sunk at San Clemente Island during testing of the MK 103 MOD 1 torpedo warhead. She is the only known Balao Class submarine in diveable depths on the West Coast of the United States.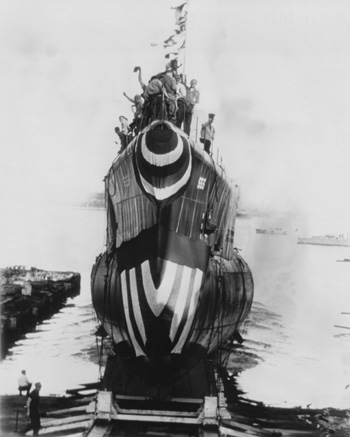 PHILADELPHIA, MAY 15 -- DOWN THE WAYS -- THE USS MORAY, one of two submarines launched yesterday at the Cramp Shipbuilding Company's yards here, slides down the ways after being christened by Mrs. Styles Bridges, wife of the Senator from New Hampshire. (AP WIREPHOTO) 1944. Larger version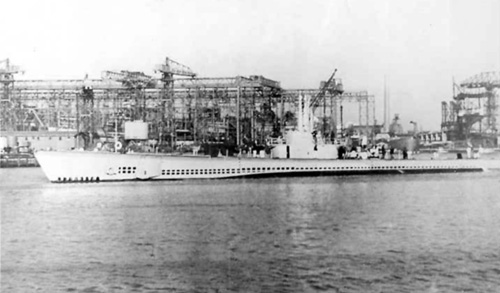 USS MORAY (SS-300) circa 1944. Image courtesy of John Hummel via navsource.org.


Today USS MORAY lies within a permanently restricted area of the Navy-owned island known as the Wilson Cove Safety Zone. Gaining access to Wilson Cove required Gary Fabian to work closely with a broad array of Naval officers from San Diego to Washington. These discussions eventually led Naval History and Heritage Command to act as our sponsor for operations within the restricted area. After submitting the necessary paperwork to NHHC we were granted a two-day archaeological research permit to conduct a photographic survey of the wreck site. The Navy placed us on the SCI operations schedule for August 25-26.

Our dive team consisted of myself, John Walker, Steve Lawson, Fred Colburn and Scott Brooks. Steve's boat, DEEP SIX, would act as our dive platform for the operation.

Conditions that weekend were ideal as we cruised at 20 knots to San Clemente. Once we gained clearance to enter the safety zone, we dropped a ball near the wreck and marveled at our luck-sunshine, little wind, no swell and hardly any current in blue water. John, Fred and Scott geared up in anticipation of good viz and lots of light. Our plan was to live boat and dive consecutively in two teams.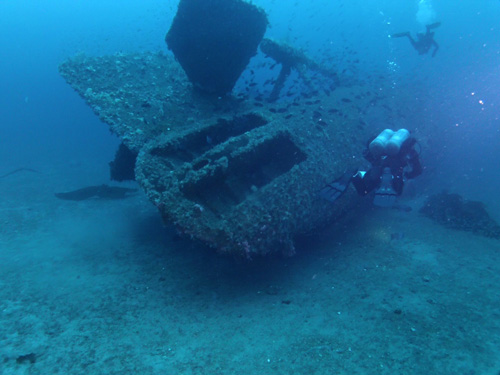 Fred Colburn and Scott Brooks examine MORAY's stern section. Photo by John Walker.


Visibility opened up as we dropped through the thermocline at 40 feet. Ambient light was spectacular and the bottom composition was white sand. MORAY's upturned hull came into view at 120 feet. MORAY lay on her starboard side in a north south orientation, just as multibeam sonar imagery suggested. Steve and I dropped onto the stern of the sub at 200 feet. We could immediately make out the rudder, aft diving planes and the two propeller shaft housings. Unfortunately, the screws were missing. As we swam forward along the seaward (top) side of the wreck, we could see where much of the decking and outer hull had disintegrated allowing a view to the pressure hull. At various spots we could see though the outer hull all the way to the other side of the sub as the outer hull frame kept the pressure hull off the sand. This deterioration also creates thousands of hiding places for the profusion of fish life that inhabits the wreck site.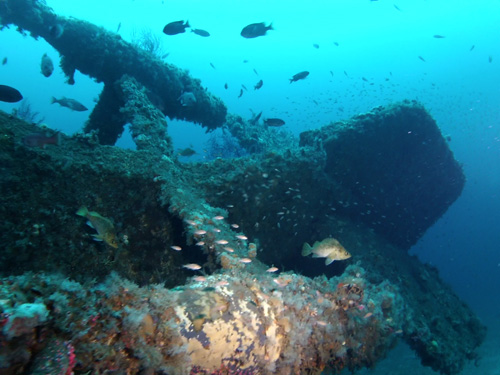 Abundant fish life attracted to MORAY. Photo by John Walker.


The MORAY is a thriving artificial reef. Off limits to fishermen and divers, the wreck is an untouched corner of the marine world exploding with life and devoid of trash, fishing lures and other detritus. Giant sheephead, ling cod, rock fish, salmon grouper, walleye surfperch and blacksmith are everywhere. The sea floor is littered with large lobster molts. We even had company from sea lions on the bottom. The invertebrate life is equally impressive and diverse-what you'd expect from a healthy vertical ecosystem.

As we swam forward we came over the conning tower structure which lies in the sand on the seaward side of the wreck. The 40 mm anti-aircraft gun and twin 50 cal machine guns have been removed, as has the 5 inch aft facing deck cannon. The conning tower is otherwise completely intact-its position serving to keep the hull from rolling down slope into deeper water. As I swam over the periscope wells I noticed a buoyancy flask in the sand to seaward.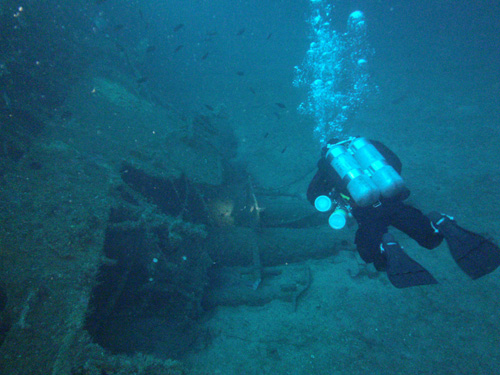 Kendall Raine over the conning tower of MORAY. Photo by Steve Lawson.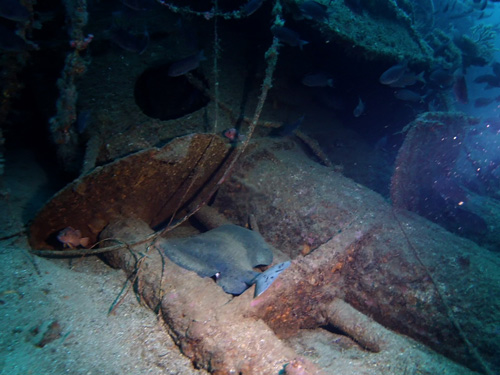 Pacific Torpedo Ray. Photo by John Walker.


Resting atop the radar mast was a Pacific Torpedo Ray. Further forward of the conning tower I stopped to peer inside the escape trunk. The pressure hull hatch was open allowing a glimpse inside the forward torpedo room.

Steve and I rounded the bow, inspected an open torpedo tube and headed back to the stern along the underside of the hull. At midships we came across a very large blast area which extended well up the port side of the wreck. The nature of the hole suggests that the MK 103 detonated underneath the hull producing an upward pressure wave which ripped open both the outer and pressure hulls exposing the Pump Room and Control Room to the sea. Damage is massive here and the sub must have sunk within minutes. The hole is large enough to permit entry into the Control Room. Entry into the submarine was not stipulated on our permit, so after peering inside for a while we continued our swim aft. We spent the last five minutes of our bottom time further inspecting the aft torpedo tubes.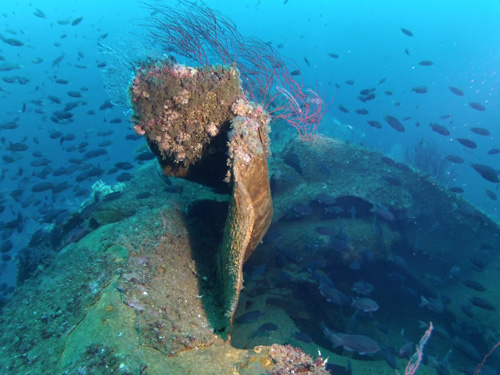 Major damage to MORAY inflicted by a MK 103 torpedo warhead. Photo by John Walker.


The current picked up as we made our ascent. Nevertheless, the hang was comfortable as we cleared the 50 foot stop and rose above the thermocline into 70 degree water.

We spent the night in Avalon and reviewed the video over dinner at El Galleon. On Sunday we headed back to Wilson Cove and repeated Saturday's dive. Visibility and conditions remained optimal. Our second dive allowed us to fill in holes in our video record as well as get a better look at the interior of the control room.

MORAY is a spectacular wreck and a real treat to dive. The time and effort necessary to gain sponsorship just made the reality that much more satisfying. Once again, without the persistence and dedication of Gary Fabian, this would not have been possible and the UB88 team is grateful for his efforts and those of everyone who helped us make this a reality. A special thanks goes out to Phil Bergeron who made our lives considerably easier by ferrying extra tanks to Avalon for the weekend.


War Record


MORAY sank two vessels during her service in the Navy. The first vessel was the American coal barge ANNAPOLIS, sunk off Rhode Island in February 1945 when MORAY, on shakedown maneuvers, accidentally rammed the anchored barge. Fortunately, MORAY was able to rescue all three persons aboard before ANNAPOLIS sank. Details of the accident were entered in the war diary of MORAY's escort ship USS GEORGE W. INGRAM (DE-62). Commander Frank L. Barrows would later make light of the collision in MORAY's war diary when he said "not the first new construction boat to get tonnage during training period, but the highest tonnage."

Despite inauspicious beginnings, MORAY arrived in Saipan in late June 1945 and began her first and only war patrol in Japanese home waters in July. On July 10, 1945 MORAY torpedoed and sank a Japanese whaling vessel. She was decommissioned April 1946 and mothballed at Mare Island until her designation as a target vessel.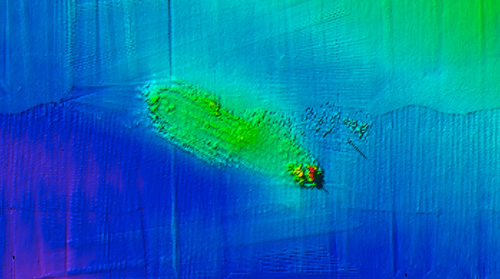 Multibeam sonar image of MORAY's first victim. American coal barge ANNAPOLIS (aka the Black Diamond wreck) was accidentally rammed by MORAY on 17 February 1945 off Rhode Island. Multibeam data courtesy of NOAA. Image rendered by Gary Fabian. Larger version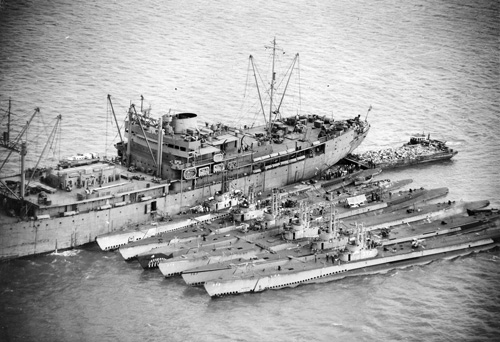 Photo dated 13 December 1945, shows the sub tender GRIFFIN (AS-13) with six submarines alongside. The submarines are (from the tender out) PIRANHA, MORAY, BAYA, LOGGERHEAD, ICEFISH and LIZARDFISH. Photo courtesy of Larry Cote and Joe Lewis. Larger version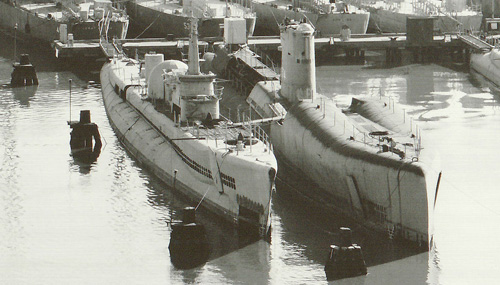 MORAY (left) in mothballs at Mare Island in 1966. SS-574 GRAYBACK is alongside. MORAY is still sporting her 5-inch deck gun. Photo courtesy of Larry Cote and Joe Lewis.



Acknowledgements

Worthy accomplishments are rarely achieved without the help and cooperation of other people. This is certainly the case with USS MORAY. Sponsorship by the Navy wouldn't have been possible without the help, goodwill, persistence and professionalism of some well connected friends, numerous officers at Naval Base Coronado, NALF San Clemente Island, Southern California Offshore Range (SCORE), the Secretary of the Navy's office and the Underwater Archaeology Branch of Naval History and Heritage Command. We gratefully acknowledge the following individuals for their assistance and support on this project.

(in alphabetical order)

CDR Jeffrey Barta, Chief of Staff, Naval History and Heritage Command (NHHC)
Phil Bergeron, Diver
Alexis Catsambis Ph.D., Archaeologist & Cultural Resource Manager, NHHC
Larry Cote, Photographer and Naval Historian
Angelic Dolan, Public Affairs Officer, Naval Base Coronado
LCDR Eric Gatley, NALF San Clemente Island
CDR Walter Glenn, Officer in Charge, NALF San Clemente Island
CAPT Yancy Lindsey, Chief of Staff, Navy Region Southwest
CAPT Gary Mayes, Commanding Officer, Naval Base Coronado
Dave McComb, Destroyerhistory.org
Robert Neyland Ph.D., Head, Underwater Archaeology Branch, NHHC
VADM John Nyquist, USN (retired)
George Schwarz, Archaeologist/Conservator, NHHC
Les Stone, Southern California Offshore Range (SCORE)
Robert Tahimic, Southern California Offshore Range (SCORE)




Diving San Clemente Island

San Clemente Island has belonged to the US Navy since 1934. Today the island and surrounding waters serve as an active training facility for SEALs, Naval aviation and the surface and submarine fleets. It remains the Navy's only ship to shore live fire facility. Public access is allowed only in designated safety zones when the Navy is not conducting operations. A schedule of the the safety zones can be found at the San Clemente Island website. The Wilson Cove Safety Zone is one of two zones permanently closed to the public. There is no entry without explicit authorization. Entering this zone without authorization from the Navy is a Class D felony involving the potential for jail time and fines. SCI security actively enforces this zone, as one local dive charter boat apparently found out when they tried to "sneak dive" MORAY last year.

For further information please refer to scisland.org.




Sunken Military Craft

Please be advised that the disturbance of sunken military craft is prohibited. In cases where individuals or groups are interested in archaeological, historical, or educational endeavors that would result in intrusive research or the disturbance of sunken military craft, a NHHC permitting program is in place to address such requests. For further information please contact Naval History and Heritage Command.