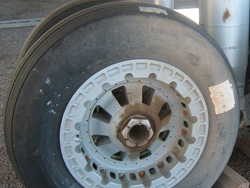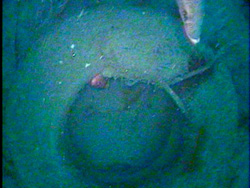 (Left) A 56-inch main landing gear tire from the last production
B-36
Peacemaker undergoing restoration at the Pima Air & Space Museum in Tucson, AZ. (Right) A 56-inch main landing gear tire from the lost B-36 Peacemaker found off the coast of Mission Beach, CA. This photo, captured from
video
, is just one of more than a dozen B-36 features recently
identified
.

Mammoth B-36 Superbomber
Found Off San Diego, CA

October 2008


A U.S. Air Force B-36 Peacemaker lost at sea during the early days of the Cold War has been found and documented by our team off the coast of San Diego, California. Details in the official accident investigation report led us to an area off of Mission Beach. Side scan sonar sweeps through this area revealed a very promising target. Deployment of a tethered video camera confirmed numerous B-36 aircraft parts littering the ocean floor. Despite previous claims of the plane's discovery, the UB 88 team has produced the only credible evidence of its existence. Details of the plane's depth and condition given by others are now proved false. We believe we are the first civilian team to locate and document this historic aircraft wreck.



Doomed Flight


On August 5, 1952, the crew of eight aboard B-36D (49-2661) were preparing to land at Lindbergh Field, San Diego, after a routine shakedown flight. Shortly after the crew had performed a required manual landing gear drop, fire broke out in the No.5 engine and it soon fell from the aircraft. The pilot banked the plane out to sea and ordered the crew to bail out. All crew members successfully exited the aircraft except for the heroic pilot. Six of the seven crew members were eventually rescued after parachuting into the sea. One crewman was never found and was presumed drowned. The aircraft was destroyed by impact and explosion. The pilot was never recovered.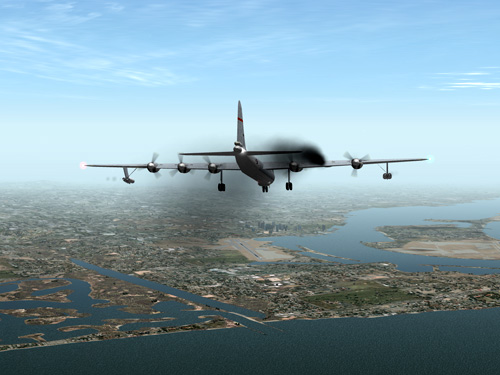 B-36D (49-2661) trailing black smoke on final approach to Lindbergh Field, San Diego, California. After fire broke out in No. 5 engine it quickly fell from the right wing. Heroic test pilot Dave Franks banked the huge bomber away from populated areas before it crashed and exploded several miles offshore. Image rendered by Gary Fabian.



The Convair B-36 Peacemaker


The Convair B-36 (nicknamed Peacemaker) was a strategic bomber built by Consolidated Vultee Aircraft Corporation (Convair) and operated solely by the United States Air Force (USAF). The B-36 was the largest mass-produced piston engined aircraft ever made and the biggest wingspan combat aircraft ever built, although there have been larger military transports. The B-36 was the first bomber capable of delivering thermonuclear weapons from within a fully-enclosed bomb-bay. With a range of over 6,000 miles (9,700 km) and a maximum payload of at least 72,000 lb (33,000 kg), the B-36 was the first operational bomber with an intercontinental range, setting the standard for subsequent USAF long range bombers, such as the B-52 Stratofortress, B-1 Lancer, and B-2 Spirit.