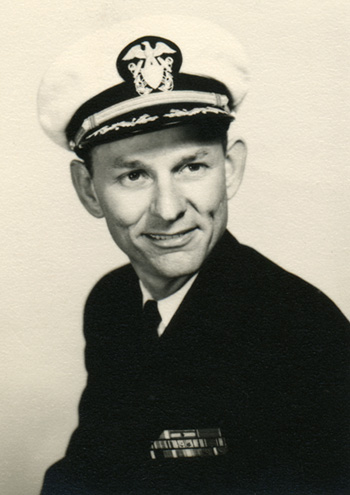 Capt Charlie S. Nelson, Sr., USNR
Commanding Officer USS VAMMEN (DE-644)
1961



The following information and photographs were graciously provided by Capt Charlie S. Nelson. We're very grateful to Dave McComb (Destroyer History Foundation) for putting us in contact with Capt Nelson and other former members of Vammen's crew.

Hi! I am Charlie S. Nelson, Sr. Capt USNR (ret). I commanded VAMMEN during the Viet Nam war. Later, she was my flagship for the Reserve Destroyer Division based in Long Beach. After I left VAMMEN she rammed USS TINGEY (DD-539), a Fletcher, right at the forward fireroom. Steam lines were bent, but held and no one was hurt. I think TINGY was scrapped after that incident. I will diligently search for the photo that shows VAMMEN being hit with a missile. The missile is halfway into the deck house amidships. Ed Evans was gun boss and later XO of VAMMEN. Rick Taylor, Ops, was later my Staff in VAMMEN. Both these officers can lend information and insights to VAMMEN. One, or both may have a copy of that photo showing missile penetration in VAMMEN. Had a conversation with Kendall Raine this AM. He gave me a vivid description of the eco system VAMMEN has become. Dave McComb, Destroyer History Foundation, and a dear friend hooked me up with Kendall this AM for a conference call with Dave. When you have time, log onto Xlibris.com. They published my book, SOUTHERN REDFEET, which you can read about on their web site. There is an excerpt from the book you might enjoy. You can search author, Charlie S. Nelson, Sr. or book title. The book has a lot to say about VAMMEN and Viet Nam duty. For you guys to find VAMMEN, and get in touch with Dave McComb, who called me immediately is one of those eerie things that comes around every once in a while. Thank you!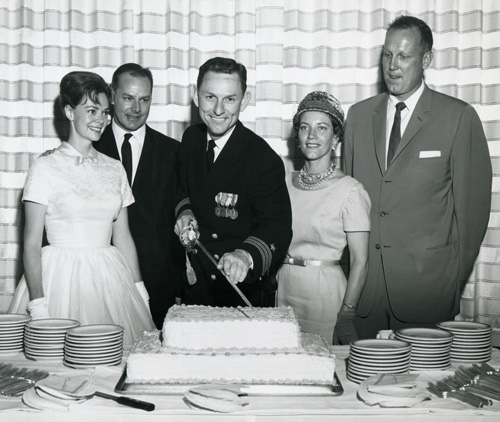 Cutting the cake at the commissioning of USS VAMMEN (DE-644) Oct. 1961. Left to right: Actress June Lockhart and Dr. John Lindsay, Commander Charles S. Nelson, C.O. of VAMMEN, Mrs. Norma J. Nelson and Mr. James Day, President of the Navy League of The United States, Principal Speaker.


Among the photos is one of cake cutting after commissioning of VAMMEN in October 1961. In the photo is June Lockhart and her husband John, my wife Norma, and James Day, National Pres of Navy League, our principal speaker. I hope that photo of me in uniform at the time of commissioning will suffice. I can dig up another of me solo, if desired. June was our gal to get us publicity. She took part in all of our ceremonial affairs. Day's wife was one of the Gabors, and for the life of me, I cannot remember whether it was Zha Zha, or the other movie star. They were both so lovely, etc. and so much alike. She opted out of the photo. I should get the photo of me in Captains garb in a week. Also included is a complete history of VAMMEN. I realize that you can't use all of the stuff, but you can pick and choose. Included is a photo of VAMMEN as she appeared at the time she met her fate, and a drawing of her by a member of the original crew as she looked at original commissioning.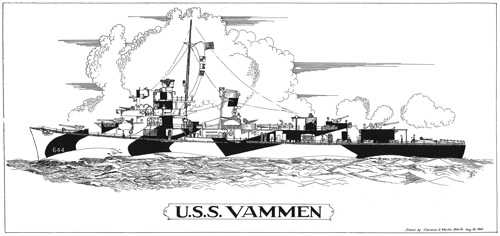 Drawing of USS VAMMEN by Clarence G. Martin, Rdm 2/C, Aug. 10, 1945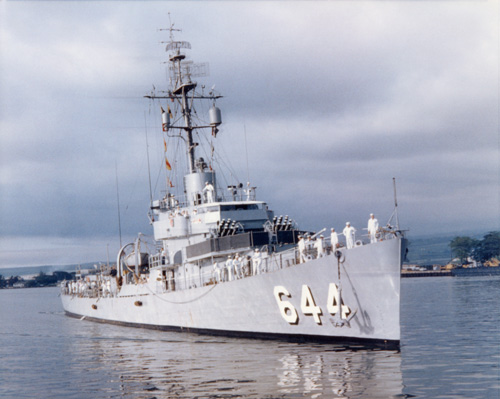 USS VAMMEN at Pearl Harbor, HI, 1962
US Navy Photograph



After decommissioning VAMMEN and placing her in the "in service-in reserve" as a reserve training ship, I moved on and came back as Commander RESDESDIV 271 and VAMMEN was my flagship in the reserve program. The guy who relieved me as commodore didn't hack it to suit the Squadron Commander who came to me to take another tour as DivCom. So, I spent a lot of time in VAMMEN, both in commission and in her reserve role. She was a modified BUCKLEY class. After the war, the Navy was looking for a prototype ASW platform and configuration. They selected four DE's, two Turbo electric and diesel electrics. Through time, the turbo electric drive with the DD bridge and superstructure of VAMMEN won out and the other three were decommissioned long before VAMMEN. You were probably aware of the structural changes in VAMMEN. On recommissioning in Oct '61, there was a mast aft. It was ugly as all hell and really didn't serve any purpose that could not be handled elsewhere in the electronic package. So, While I was away at a meeting during a yard overhaul, the Chief Engineer, in cahoots with other officers; bribed the riggers with coffee and had the after mast removed. Secretly, without saying a darned word to me. The ship regained the lines of a DD. It really looked good, and I never told anyone in higher authority. From this story, you can draw some good opinions of the characters I had in the wardroom. That pic I sent you of her in Hawaii in 1962 is the way she looked when she was sunk.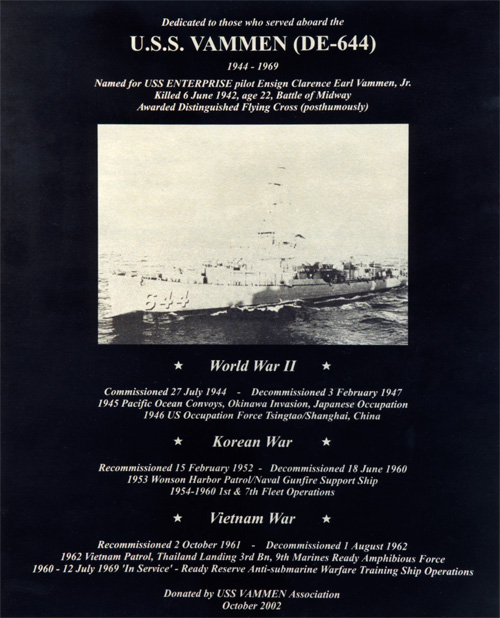 USS VAMMEN Plaque
Memorial Wall, National Museum of the Pacific War
Fredericksburg, Texas


U.S.S. VAMMEN ASSOCIATION
Memorial Wall Plaque Committee
24 July 2002


Dear Charlie,

On behalf of the Memorial Wall Plaque Committee, which I have had the pleasure of chairing, along with Charley Postel and Jess McBeth, each of us representing a significant period in VAMMEN's history, we take great pleasure in thanking you for your contribution to making this an immediately successful fund raising event. It simply demonstrates again what we have felt about VAMMEN service and its impact upon our lives.

As is said, it is only right and fitting that VAMMEN should be represented by this Plaque on the Memorial Wall at the National Museum of the Pacific War and the Admiral Nimitz Museum. VAMMEN's keel was laid in San Francisco in 1943, was commissioned in 1944 and named for a Naval aviator lost at the battle of Midway, served in three wars, and always operated or deployed in the Pacific, with home ports principally in San Diego, in Long Beach, and for a short time, in Pearl Harbor - a true Pacific blue blood. And gratefully today she rests silently in the deep Pacific Ocean waters into which she slipped in 1971, not disrespectfully cut up into scrap metal. She was alive to all of us at one time, and still is in our memories.

The process of crafting this bronze Plaque from our design draft has started, and the finished article is scheduled to be at the next VAMMEN reunion in Corpus Christi, Texas, commencing on 10 October 2002. The Plaque will be included in our memorial service on board the USS LEXINGTON, and there will be, at a later date, a ceremony at the Memorial Wall itself in Fredericksburg, Texas. We hope you will be at this reunion to view it, to receive your photocopy and a certificate for tax credit, and to 'splice the main brace'. If you are unable to be with us, these items will be subsequently mailed to you.

Again, thank you very much for your generosity.

Sincerely,

D.G. Taylor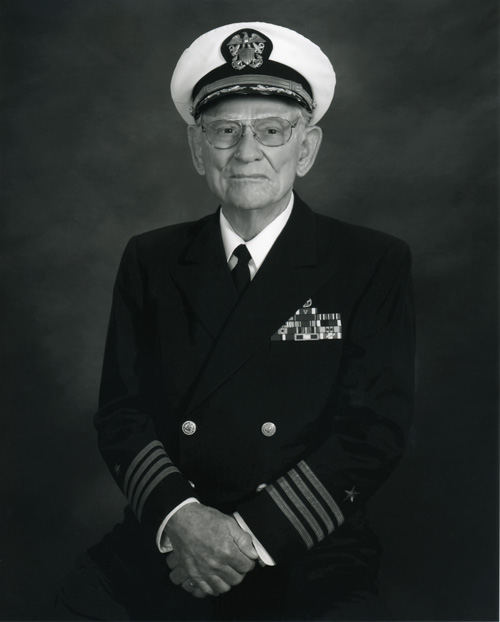 Capt Charlie S. Nelson, Sr, USNR, Ret.



The attached poem by MMC Joseph E. Early, ret, has been released for publication. I have the original release. Those of you who wish to use it in your various publications, websites etc, are free to do so. I think it is so good that I recommend adopting it as the official poem of the National Association of Destroyermen. All I can think of is Tin Can Sailors Assoc. at the moment. I have snail mailed Terry Miller a copy of the poem and the release in case he wants to include an article in the next edition of Tin Can Sailor regarding VAMMEN's discovery.


A TIN CAN SAILOR
By Mmc Joseph Early, USN, Ret.
USS Vammen (DE-644)

A tin can sailor
Is a friend, indeed
He'll come to your aid
In a time of need

He'll laugh at your jokes,
Agree with your lies
And happy being
Just one of the guys

After some lengthy
Maneuvers at sea
His mind is focused
On a good liberty

When he first sets foot
On the ship yard docks
You know where he's from
By the way he walks

And he walks quite fast
To his watering hole
Where he becomes prey
For some one to roll

If he should get rolled
He shows no regrets
If they left him change
For some cigarettes

Then on the way back
To his ship once more
He walks funnier
Than he did before

Like all good sailors
After they unwind
Role up his sleeves, and
Gets back to the grind

There's the heat from steam
And many long hours
Little fresh water
For taking showers

But he doesn't mind
Any part of this
He's a tin can man
And that's how it is

When his ship departs
And enters harms way
He will state with pride
"Just earning my pay"

And as they proceed
Through the jowls of hell
He's pleased with himself
For performing well

When the ship returns
To home port once more
He takes the credit
For winning the war

Then in later years
in civilian life
He will settle down
With a lovely wife

While at his bedside
And on bended knee
He will pray for those
Who were lost at sea

After drifting off
Into a deep dream
He's back aboard ship
And cranking up steam

His mind often dwells
On his old shipmates
Cherishing his years
With those reprobates

At ships reunions
He's first to arrive
With his sea stories
The past comes alive

And the bond that formed
While part of the crew
Becomes stronger still
With their past on review

That same bond they share
No one can serve
All tin can sailors
Are shipmates forever