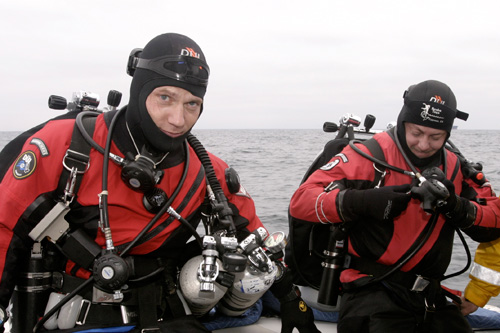 Tech divers Kendall Raine (left) and John Walker prepare to make their first decent to the wreck site of UB 88 on August 27, 2003. Photo by Gary Fabian.



UB 88 Dive Report
By Kendall Raine
August 27, 2003


I was born July 9, 1959. On July 9, 2003 I received an e-mail from Captain Ray Arntz. It read "Hey Kendall, Give me a call. I think I've got a project."

A project with Captain Ray? That could only mean one thing. A new wreck. Deep too, if he was contacting me. Happy Birthday to me.

When I spoke with Ray the news was better than I could have hoped. Not only did Ray think he and his partner Gary had found a new wreck, but the wreck of the only German U-boat in California waters, the famed UB 88. They even had drop camera and digital sonar images of the wreck. No more rock pile dives.

"The wreck's deep. We need some video to nail it as the UB 88. Can you do it?" Ray asked.

"No problem. Top secret right?" I responded.

"Top secret. My partner Gary and I have worked too long and hard to have this get out. No screw ups and no show boating. Gary and I have complete control on disclosure. We need this done right the first time and kept quiet. Understood?" Ray answered.

Understood? Gee, let me think about that. "Of course, it's your show." I responded.

"Who do you want with you?" Ray asked.

No screw ups and no show time. Hmm. That's easy. "Johnny and I can do it alone" I said. "Mid-week and not your boat. It's too well known." I continued.

"Johnny Walker? Perfect. We'll probably use my partner Gary Fabian's boat. He actually found the wreck and the one who's done most of the work on this thing. If you think I'm good at finding stuff, you should see this guy. He's better than I am. I'm busy with mid-week charters until mid-August. What works?" Ray said.

"We're cave diving in Mexico until August 23. How about August 27, Wednesday?"

"Done." Ray hung up.

Wow. Just like that. Ray and I had been discussing the UB 88 for years. I'd even visited a few deep rock piles in search of it and suddenly this invitation. Despite rumors of it having been found, despite rumors for years of people having the numbers of the UB 88, I'd never seen any proof of either. From what I knew, we'd be the first to dive this wreck.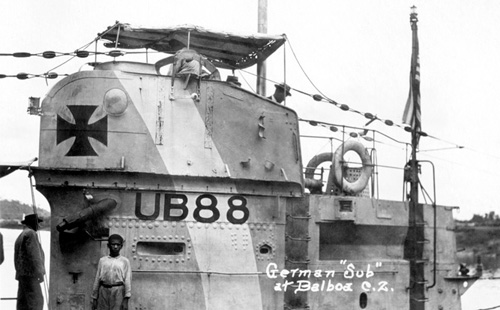 UB 88 at Balboa Canal Zone, 1919



The UB 88 was a Type UB III German submarine built in Hamburg, Germany and commissioned in January 1918. Despite her late entry to the war, UB 88 managed to sink 13 ships and damage two more during ten months of service. Sent to the United States after the end of the war, UB 88 was paraded around the eastern seaboard as part of the Victory Bond drive before departing for California via the Panama Canal. Based in San Pedro, UB 88 also cruised the West Coast raising money until 1921, when she was stripped and sunk in a live fire exercise by "Bull" Halsey during his first command aboard USS Wickes (DD-75) (sister ship to the Hogan and Radford). She is the only known U-boat from either war in California waters. She was one of six WWI U-boats given to the US by Great Britain at the end of WWI. One of her sisters was apparently recently found in Lake Michigan.

I left my house at 5 am August 27 bound for John Walker's house. In the car was loaded my double 104's with 15/50 and the deco gas necessary for a 25 minute dive at the target depth. There was no traffic and I made John's house at 6:15. We loaded up and drove to Ray's and from there down to Long Beach to meet up with Gary and the rest of the team.

Gary's boat was moored in Long Beach and it was there that we met other members of the project, Mike Lapinski and Harry Davis. Mike would assist Ray in the hooking and gearing up process, while Harry would shoot topside video while Gary handled the boat and shot top side stills. We loaded quickly and headed out to sea. Running at 15 knots, the trip would take us under an hour on our southeasterly heading to the wreck site. Gary recalled his two-year search for the wreck and his search process. Ingenious would barely describe it. It was clear this project had consumed Gary as much if not more than Ray and their pride, enthusiasm and anticipation was infectious. En route, we reviewed drop camera footage taken in July. I could see why Gary and Ray thought they had something. Whatever it was, it wasn't a rock pile or culvert. Sonar measured the target about 175 feet in length. The UB 88 was 182 feet long and a 19 foot beam. The sonar readings suggested she was largely intact. The drop camera confirmed this was a ship wreck and the few clear frames bore resemblance to deck plans of a Type UB III World War I German submarine.

Gary found the wreck on the first pass and Ray dropped a 50 lbs ingot tied to a float over the side. The plan called for us to establish an up line and then live boat. We reviewed procedures and then dropped over the side up current of the float. Our biggest concern was crew boat traffic as we weren't far from platform Elly-Ellen. Our dive plan was to tie the up line into the wreck and swim both sides trying to capture signifying marks along the way. If the conning tower was intact-action reports suggested it might have been destroyed during the live fire exercise-we would video that. I would lead, run lines and spot video targets. John, with his new Halcyon lights fresh from the caves of Mexico, would video the dive.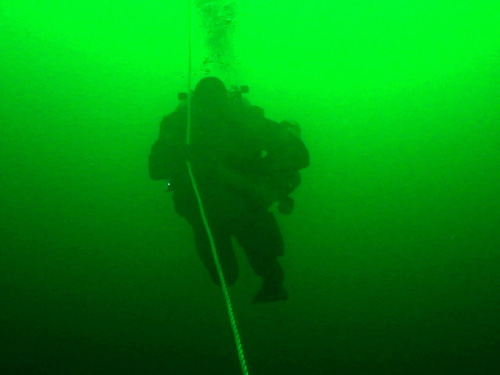 Descending to the Wreck Site



The water at the surface was pea green so John and I stayed close on the descent. The water started to clear below 50 feet though we never got viz better than about 25 feet. Approaching target depth, I searched in the gloom for any sign of the wreck. As the sand came up, I broke out a spool, tied into the up line and headed in the direction of what looked like the shadow of a wreck. Ambient light was very low at this depth. I was really hoping to avoid a protracted search since that would kill our gas and increase our bubble count.

After a thirty foot swim the wreck appeared. Curved and covered with corynactus, our initial impression was of a cylindrical hull broken in parts exposing an inner hull. I tied in the spool and turned left leading the dive. Johnny's twin 24 watt HID's created an enormous glow behind me and I knew he was busy doing his job. We swam over a large flat plane extending out of the side of the hull. A close look revealed a plane inside another plane with the inner plane connected to the hull at the center. The inner plane was clearly designed to pivot. It was obviously a diving plane with a guard around it. Now I was getting really excited. Not too many surface ships had diving planes.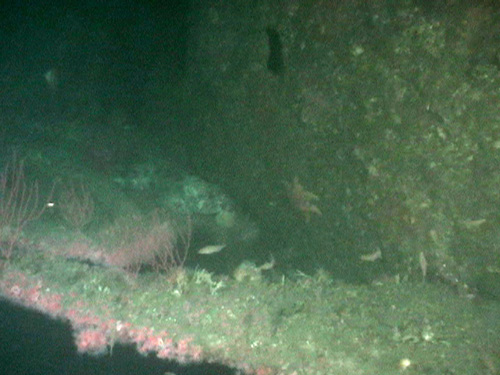 Port Dive Plane



A short swim further on and we came to a wrecked area and the end of the hull. I thought "We're probably at the bow." Swimming around the wreckage, I came to the other side of the hull. At this end the beam was probably no more than ten feet. Twenty feet aft of the wreckage another large plane rested on the sand-the other dive plane. Right where it was supposed to be. A large hole in the outer hull was smooth and obviously pre-existing-the anchor housing! Oh this was getting to be fun!

Swimming back along the hull, I kept looking up to see if the conning tower was there. In another minute, there it was. Rising 15 feet above the top of the hull, it was covered with a carpet of corynactus and loomed imposing against the green backlight. "Well, that just about nails it!" I said into my regulator in my Donald Duck helium voice. I hope Johnny gets this shot.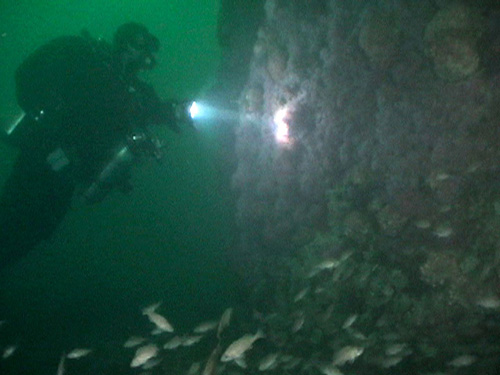 Conning Tower



One more thing to do, though. I ascended the side of the conning tower. A reverse block developed which gave me a brief case of the spins. Holding onto the conning tower to let it subside, I floated up to the top to witness what I'd come for. Two holes about four inches in diameter and three feet apart were at the top. Periscope wells. Bingo! There was absolutely no doubt that this was a sub. Suddenly the gloom was illuminated by car headlights. Heeeeere's Johnny. I moved out of the shot and pointed with my light at the periscope wells. In front of these appeared what looked like a hatch handwheel.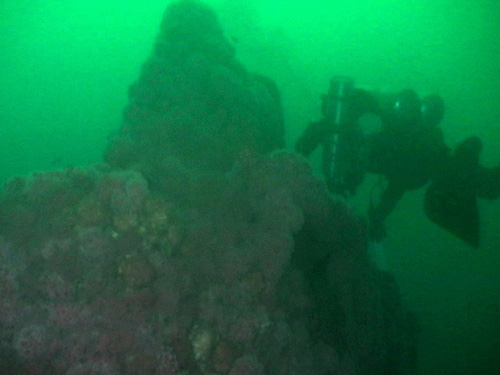 Periscope Wells



I then swam back down to the hull and headed aft. Behind the conning tower were two hatches, their hand wheels heavily encrusted but still clearly visible. A groove in the pressure hull formed at the junction of the ballast tanks and the pressure hull, and evident in war time photo's of subs under construction, was clearly obvious. A hole directly into the pressure hull appeared allowing me to shine my light into the interior of the sub. Cool.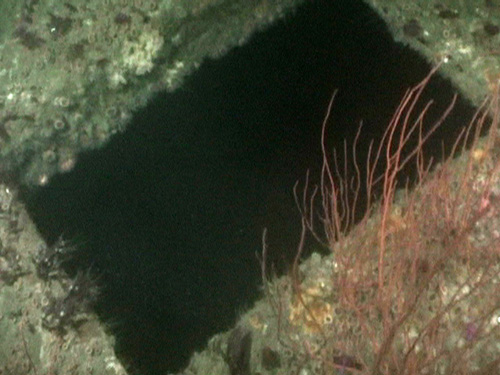 Access to the Interior of The Submarine



Swimming further back I came upon a large net suspended off the hull by floats. The net was obviously very old. Dropping behind the net I came to the stern. A steel rail originally attached to the stern lay in the sand. Another obvious clue that this was the UB 88 - the rail appears in the deck plans and is unique to Type UB III boats.

Swimming around to the port side of the wreck, I was able to make out propeller shaft struts and the flange into the hull. The shafts and propellers had been removed in San Pedro Navy Yard prior to sinking. Johnny was again right behind me getting everything. "Ray's going to be a happy man with this video" I thought.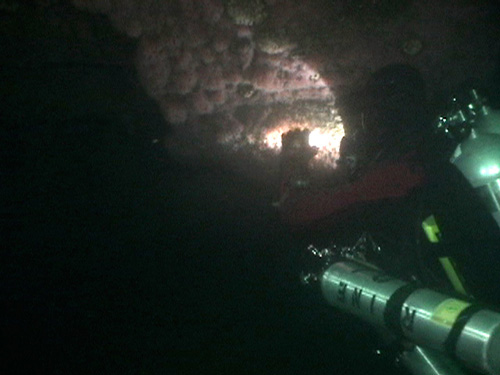 Propeller Shaft Strut



I continued forward and examined various places where the outer hull had been breached exposing the pressure hull. Finally, I again came upon the bow plane I had seen at the beginning of the dive. This time I noticed a torpedo tube protruding from the pressure hull. I ran my light back and forth along the length of the torpedo tube-a sign for John to film it. True to form, Johnny was right there and nailed it.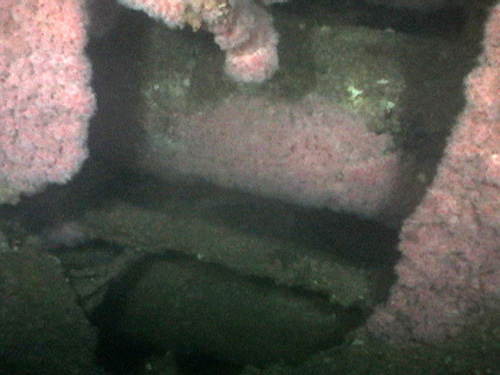 Torpedo Tubes



Time was up. I thumbed the dive and pulled my spool. The line caught on my p valve and caused me to wrangle it a bit much to Johnny's delight. I could hear him laughing into his regulator as I got the line under control and wound up.

After an hour of deco John and I surfaced and Gary & Co. picked us up. We drifted in the current as John put the video on the TV. The video was spectacular. Any doubts were erased. Not only was it undeniably a submarine, multiple identifiers made identification as a Type UB III boat virtually beyond question. Much merriment ensued.

The ride in was spent discussing various aspects of what we'd seen and Gary and Ray's plans to document their find. Additional dives are being planned to further document the wreck, though Gary and Ray say they have no intention of disclosing the location. Because of the possibility of unexploded satchel charges inside the wreck, there are no plans to open her up, either. Depth and entanglement hazards make this wreck hazardous. Unexploded ordnance on board makes venturing inside very dangerous. Preparations for sinking took four months and it is unlikely that many interesting artifacts remain. Nevertheless, I told Ray I felt honored to be chosen for this project. The wreck itself is a priceless memory. As with the Brother Jonathan expedition, being the first to touch a ship wreck is a very special feeling.


*Underwater video still frames by John Walker